At 18-35, the Sacramento Kings are well on their way to the dumps, but fortunately at Sports Out West we grade on a curve. The coaching staff and front office get a pass, so here's the progress report for every player on the roster through All-Star Weekend.
Quincy Acy – B
Since joining the Kings in December, Acy has brought hustle and electricity off the bench. In 15 minutes per game the second-year, 6-foot-7 power forward plays above the rim and under control, rarely forcing shots.
DeMarcus Cousins – A
His league-leading 12 technical fouls don't reflect it, but Cousins has matured on the court by upping his efficiency to stratospheric levels. The fourth-year big has increased his shot attempts within nine feet to 72.3 percent from 66.3 percent in 2012-13, while lowering his takes between 15 and 24 feet to 22 percent from 27.5 last season (stats.nba.com). Cousins' commitment to use his size down low has resulted in a career-high 22.5 points (on 48.3 percent shooting), 11.7 rebounds, 2.9 assists and 1.2 blocks per game.
Jimmer Fredette – B-
You can't Flim Flam the Jim Jam. Fredette is playing less minutes than ever (11.5), but he has earned a stable backup point guard gig, which helped him post pro career-bests in field goal, three-point and free-throw accuracy (47.7/49.3/94.1). He's also noticeably improved his ball-handling and man defense. Like a homemade pipe bomb, Fredette can go off at any minute.
Rudy Gay – A
The centerpiece of the seven-player December trade, Gay has saved his reputation in Sacramento. The forward's poor shot selection with the Toronto Raptors this year (38.8 percent on 18.6 shots a game) raised concerns he was either a quitter or past his prime, but with Sacramento the 27-year-old is nailing buckets at a 50.5 percent clip and feeding 20 points a night. Gay also gives good effort on the boards, but his potential on defense asks for more.
Aaron Gray – D
Packaged with Acy and Gay in the Raptors trade, Gray has provided the Kings strong screens, stone hands and a wide body in a little more than 10 minutes a contest.
Carl Landry – incomplete
Landry has played only 14 games after missing almost three months to a torn hip flexor, so he can turn in his work late.
Ray McCallum – C
The thirty-sixth pick in the 2013 NBA Draft has been treated like a project, earning minutes in mop-up duty with the Kings. The 6-foot-3 point guard has worked two assignments in the D-League and is reportedly the team's hardest worker according to coach Michael Malone.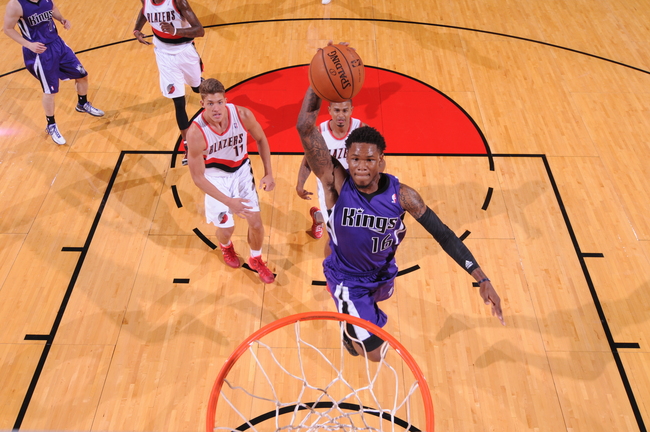 Ben McLemore – C
From falling to seventh in the draft, to winning a starting job, to losing that starting job, to missing out on the Rising Stars Challenge, to participating in the Slam Dunk Contest, McLemore's path to the big leagues has been anything but predictable. His freakish athleticism and instincts on both sides of the ball are seen in spurts, which is enough to keep him in the rotation.
Travis Outlaw – C-
Outlaw seemed to be chained to coach Keith Smart's doghouse, but Malone has given him second life thanks to his wingspan and stroke. The former Portland Trail Blazers stud is still logging inconsistent minutes though, so maybe Smart had a sense of the 11-year veteran's abilities.
Isaiah Thomas – A
Damon Stoudamire-lite should now be referred to as Damon Stoudamire's twin. Thomas has continued to disprove skeptics with his burst and Downy-soft shot, as the 5-foot-9 point guard is averaging 20.2 points, 1.9 threes, 6.3 assists, 1.3 steals and 2.7 turnovers. Critics still question whether the last pick in 2011 could be this effective on a playoff club, but alternate realities are for dreamers and Thomas is simply scorching through the break.
Jason Thompson – D+
Not to be confused with JT the Brick (it's ok if you did), Thompson has struggled to find his comfort zone. The longest-tenured active King is averaging 7.6 points and 6.5 boards in less than 26 minutes and providing little else. Thompson doesn't appear to be physically limited, but management should question his frontcourt compatibility with Cousins.
Marcus Thornton – F
Thornton is in a funk that would make James Brown blush. Even including a random 42-point explosion against the Indiana Pacers on January 24, the quick-release shooting guard has been connecting on only 38.1 percent of his field goals and 31.8 percent of his threes, both career-lows. Add in his lackadaisical defense, and fans have to wonder if he's simply content with the four-year, $33 million extension he signed in 2011.
Derrick Williams – C+
The prize trade acquisition before that Gay guy, Williams continues to be a tease as he was in Minnesota. The 2011 second overall pick has been outstanding at times rebounding and driving to the hoop in halfcourt and transition, but when settling for long jumpers or playing isolated defense he's been exposed. Still, there's much to like about the tweener's 39-game Kings tenure.
Photo Credit: Reuters.com, Rockchalkblog.com
The following two tabs change content below.
Rui Thomas
Rui Thomas is an NFL and NBA aficionado whose credits include Yahoo! Sports, FanNation, GoldenGateSports and Radiosurvivor.com. He also owns the Theruination.net. Rui sympathizes with every West Coast team.
Latest posts by Rui Thomas (see all)